Your maid of honor may be your human BFF, but did you know that your wedding website can be your virtual BFF? Nothing works as hard (ok, besides your wedding planner!) to make your day a success when communicating to your guests. Here are 10 wedding website details you don't want to miss.
This post contains affiliate links, and purchases help our blog grow. Thank you!
Wedding Websites to Consider
Minted
Not only does Minted have amazing invitations by quality designers, but you can also claim a FREE wedding website. One of the best parts is that the design of your site can match your invitation suite. Using Minted is a fabulous way to have a cohesive look!
Appy Couple
When it comes to digitizing your communication, Appy Couple does it perfectly. In addition to love wedding website designs, they offer digital invitations, travel planning, and an app to help keep everything organized for the happy – um, appy – couple.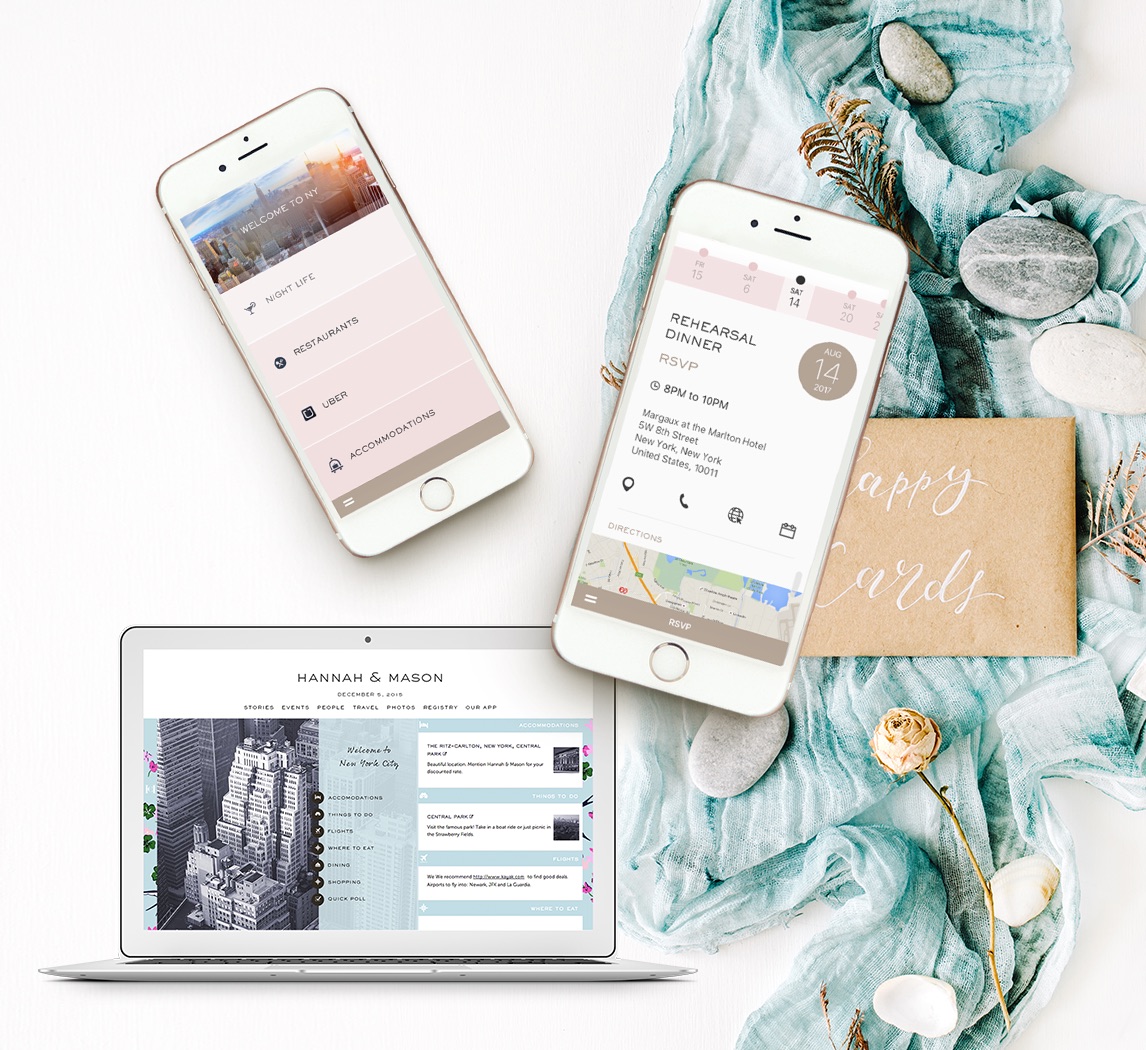 Zola
If you're simply looking for a way for guests to have an online RSVP, Zola's system is perfect. Plus, you can use Zola for your registry items. Therefore, it is an added bonus to have your wedding website details and registry in one place.
Joy
Like Zola, Joy is a great place to have your guests RSVP, make meal preferences, and ask questions. One bonus is that Joy has cute designs and an easy-to-use interface as wedding websites are their specialty.

10 Wedding Website Details to Include
One of the most important parts of planning your wedding is keeping your guests informed about your big day. There is a lot of information they need to know and many crucial things you need to communicate.
A wedding website is a great way to ensure everyone knows what's going on. Plus, it's a place where guests can get new and updated info. Here are ten things wedding website details you might be forgetting to put on your site.
1. Basic Wedding Information
Your wedding invitation will outline things like where the event is being held and what time. Additionally, make sure that you have the basics about your big day in the wedding website details. Doing so will help people plan travel accommodations and know if they need to rent a car.
2. Wedding Registry Link
Gifts are one of the nicest perks that you can get from getting married. Therefore, make it easy for your guests to pick out something for you and your new spouse. Plus, many will ask about your wedding registry, so make it convenient for them.
3. Parking and Transportation Details
What is the parking situation like at the venue? Will there be a transportation option available if they don't have a car? Answer these questions upfront so that people aren't scrambling to find rideshare the day of your wedding.
4. Wedding Attire Suggestions
This is one of the first questions that run through guests' minds. What should I wear? If you have a theme or want your guests to dress a certain way, put it in your wedding website details so people can easily find it.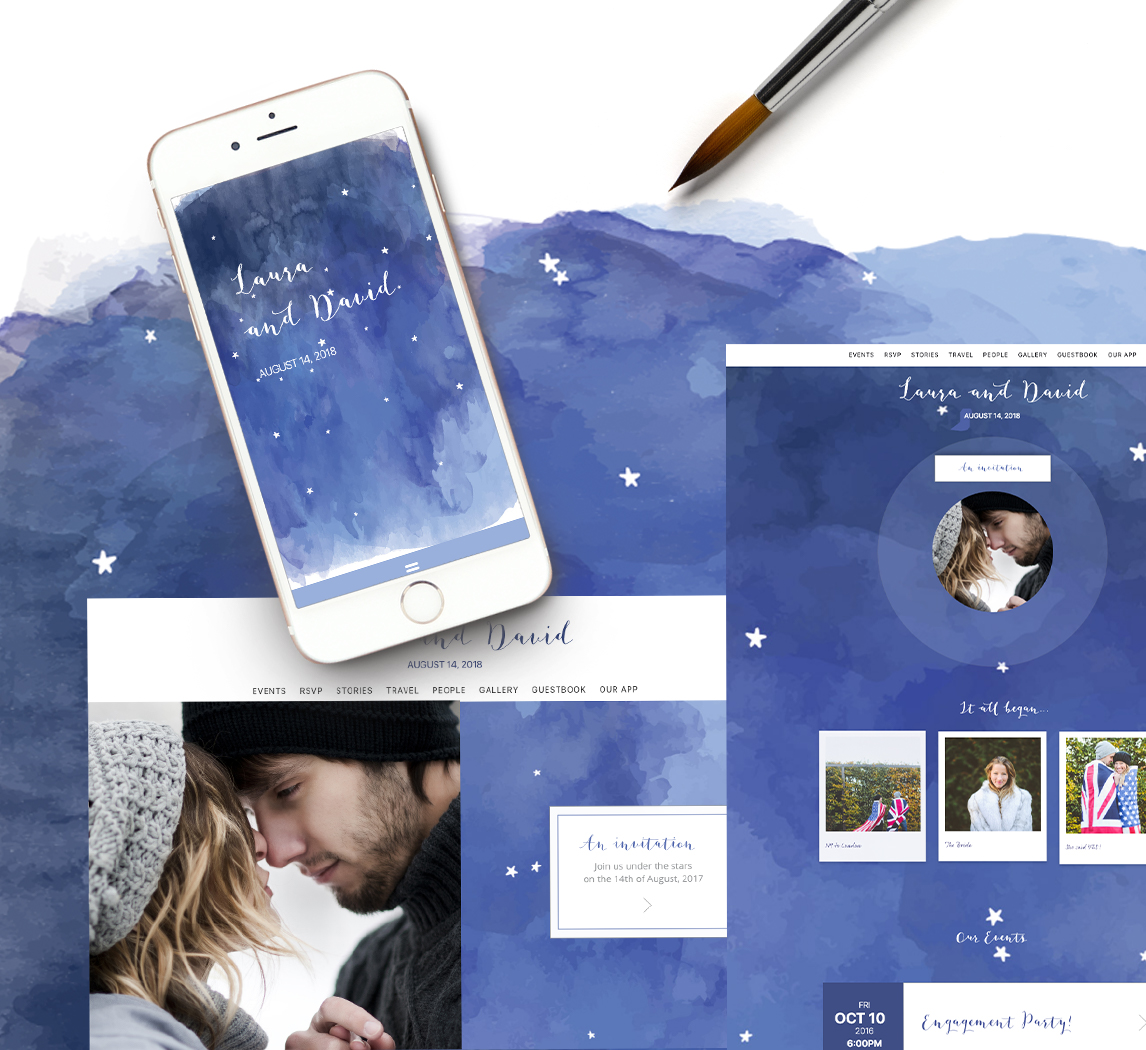 5. Accommodation Options
Many of your guests will need to stay overnight for your big day. Give them a few hotel options or even directions for the hotel where you have blocked rooms. You can also provide links to local Airbnbs for them to book on their own.
6. Local Things to Do
When putting together your wedding website details, it's a good idea to give your guests a little information about the area. Since they'll be spending a bit of time there, this can give them some ideas of what to do with their downtime.
7. Your Love Story
Remember that some of your guests might not know who your soon-to-be spouse is. They may have just heard of them or might not have even met them before. Give them a chance to know how you met and a little about each of you just in case.
8. Wedding Party Bios
Everyone will look at your wedding party and wonder who they are. Are they your cousin, BFF, or coworker? Include photos on your site along with a short bio of your attendants and how you know them.
9. RVSP Information
Make sure your guests know the final day to RSVP. This is such a small detail, but it's one that couples often forget to put in their wedding website details. While this should be included on your invitation too, it's also important to put it on your site.
10. Venue Location
Don't forget to let your guests know where your wedding will be as soon as you know it. This is especially important if the ceremony and reception are in two different places.
Also, put directions, an address, or a map of how to get to your venue on your site. Many guests will forget to bring their invitation, so having the information easily accessible on your wedding website will prove helpful in a pinch.
A wedding website is so important to have nowadays. These can be a huge lifesaver to those who lost the save the date or just want to find your registry again.
Save our wedding website details!

Header photo by Meghan Mosser